Shameless Self Promotion
For The Girls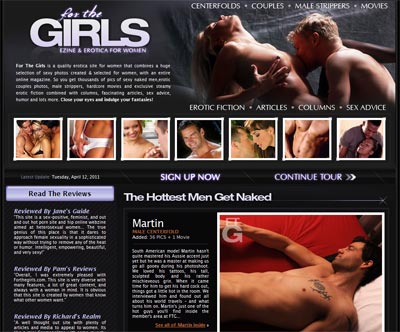 Well girls, I'm proud to say I've got my own women's erotica megasite! For The Girls was created in 2003 by me in partnership with another wonderful female friend of mine.

Our philosophy is fairly simple. We know that women are sexual beings. We know that women enjoy looking at sexually explicit material. And we know that women also want to be entertained, informed and given their money's worth. So For The Girls aims to keep you satisfied, in every possible way.

To this end we've collected and created a huge amount of explicit photos, both of sexy men and of couples. Whether it's hunky beefcake, or quality hardcore sex scenarios, we've done our best to make sure the female point of view is paramount. This means we offer more good looking guys, more cunnilingus photos, more foreplay pics, more intimacy and kissing, more eye contact, more respect. And less "facials", less "money shots", less "open-butt-photos", and less blowjobs. Some of our photo sets may be a little older, but we've used them because they meet our standards. We figure erotic lovemaking with big hair is far better than endless insertions where the fashionable woman looks bored out of her mind. Of course, we've got lots of new content that is simply gorgeous!

We've got an enormous collection of exclusive erotic fiction written by some of the best erotica authors. So many other adult sites feature those badly written two-paragraph "stories" which are a dime a dozen and usually male-focused. You won't find any of those stories here. Quality erotic fiction is the name of the game, and we're always adding new exclusive stories regularly.

Our features section is full of fascinating pics, movies and articles. If you love male strippers, we've got incredible footage from real strip shows, plus we get down and dirty with one of the guys. We also visit with the men from Puppetry of the Penis and find out exactly what motivates them to do strange things with their dicks (you should see the photos!). We've got an amazing autofellatio gallery and we talk to men who can suck their own dicks, just to find out if they ever leave the house…

We're also aware that you want more than just an orgasm. So we've got a vast amount of great reading to keep you happy. We have articles on such diverse topics as divine spirituality, big dicks, real vampires, vibrators, sex surrogates and more. If you want advice on sexual issues or on fixing your car, we can offer it. If you want to be informed about the issues facing women, it's there. Or if you just want to sit back and have a belly laugh, we have jokes, columns, cartoons and games to keep you happy.

The theory that "women don't like porn" is just stupid, old-fashioned nonsense. Why? Because we're proof. If something doesn't appeal to us, we don't put it on this site. As far as we're concerned, we're offering what we think a good women's adult site should be. Because we've looked at the others and they just don't measure up to our standards. It's time women were offered quality, erotic and intelligent porn, and we want to be the site that offers it.

Click here to see what else For The Girls offers!
---
NEW!

Looking for hardcore couples sex?
Pure Cunnilingus
features hundreds of movies and galleriesof men on their knees!
Naked Straight Men - Porn for Women
It's about time women got to see some porn on the internet. This site knows what you want to see - nude men! There's two galleries to keep you happy! Psst! I've added new pics too!
Hot Men Gallery
Sexy Men Take it OFF!
Hotter Men Gallery
You can see EVERYTHING!
Hot Sites for Women
Great women's erotica
Naked Well Hung Men

Porn for Women Blog
Thoughts on women's erotica
Penis Postcards
Hilarious cock pics
Naked Straight Men recommends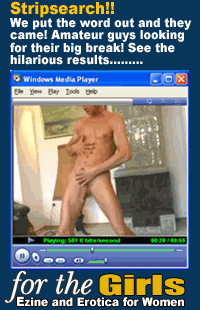 Who'd have thought that average guys stripping in their living room would be so hilarious!
For The Girls Ezine and Erotica for Women
---